Join us on October 15!
You are invited to join us on October 15th for Cummins Exploratory Day. Leaders from China, India, United Kingdom, Latin America and the newest business organization New Power, will join Exploratory Day to share their perspective and take questions from diverse owned businesses.
Throughout the day, we will host matchmaking sessions for those categories we are seeking goods and services. Each diverse supplier will be vetted according to Cummins current sourcing needs.

We look forward to seeing you virtually!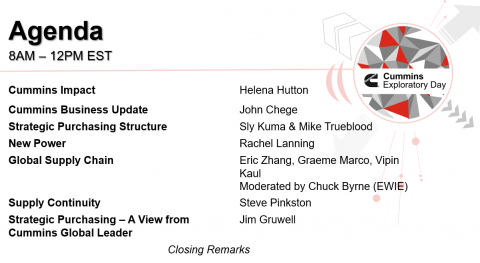 Guest Speakers include...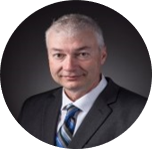 Jim Gruwell is the Executive Director of Strategic Purchasing at Cummins Inc. In this role, he leads a large global team responsible for approximately $15 billion in direct and indirect spend. He plays a critical role in the Cummins Supply Chain as it continues to undergo a broad transformation across all functions, implementing several new global capabilities.  Jim first joined Cummins as the Executive Director of Corporate Supply Chain Strategy. He had responsibility for the Supply Chain Transformation program along with new supply chain designs and strategy development. Prior to joining Cummins, Jim held a variety of positions that involved global supply chain strategy, design and implementation at Dell. He also led process engineering in support of, and improvement of, operations in North America. This experience and knowledge enabled him to lead large portions of Dell's Client Reinvention end-to-end business transformation. Before joining Dell, Jim worked as the General Manager of Design Services and Prototyping at Solectron Texas. In this role, he managed an engineering and operations team responsible for $100 million in product and services revenue. This encompassed hardware design, application-specific integrated circuit (ASIC) and application design, new technology qualification, rapid proto-typing, supply chain start-up with materials pipe-lining and low-cost geography launch. Directly out of college, Jim held numerous roles in operations, engineering and product development at IBM in Austin, Texas. He began as a functional test engineer and quickly became a technical and business leader. Jim is a graduate of Purdue University, holding a Bachelor's Degree in Electrical Engineering. He currently lives in Columbus, Ind., with his wife, Tricia, and son, Zane, and their German Shepherd, Lexa.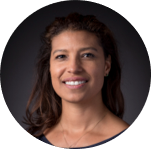 Helena Hutton leads diversity procurement for Cummins. She works closely with CEOs, executives and solopreneurs of diverse companies to create opportunities for them to partner with Cummins. After spending more than fifteen years working as a corporate, transactional attorney, Helena uses her legal and business acumen to influence corporate culture by demonstrating the continued value that results from having capable, results driven, diverse companies in Cummins supply chain. Helena is committed to social causes and spends significant time volunteering for not for profit organizations that empower women and children. She holds a Bachelor's Degree in French and one in Anthropology from Marquette University and a Juris Doctor from the University of Oregon. Helena and her family live in their adopted city of Indianapolis, Indiana.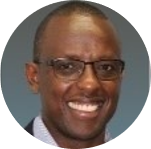 John Chege is the Global Controller for Cummins Purchasing group. John joined Cummins in 2005 and has worked in Finance roles in various segments of the company including the Engine Business, Components Business, Distribution Business and in Corporate Groups. Of the 15 years he's been with the company, 5 have been based outside of the US in South Africa. Prior to Cummins, John worked in Public Accounting with KPMG in his native country of Kenya. John, a certified CPA, holds a degree in Civil Engineering (University of Nairobi), as well as an MBA in Finance from the University of Michigan – Ross Business School. John is married to Bahati and they have 1 daughter, Neema and he enjoys reading, running and travelling.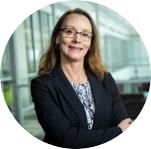 Rachel Lanning joined Cummins in 2018 where she currently leads global sourcing for Electrical Systems and New Power Business purchasing. Her team develops and executes sourcing strategies for controls, sensors, wire harnesses, power electronics, and battery and fuel cell systems across Cummins through strategic supplier relationships that advance technology, optimize cost, mitigate risk, and ensure supply. Rachel is part of the leadership team for the New Power Business, where Cummins is investing in new technologies in electrified and hydrogen fuel cell powertrains. Prior to Cummins, Rachel worked for John Deere for over 15 years. While at Deere, she led teams in strategic sourcing, material flow, direct material procurement, aftermarket pricing and marketing, and corporate strategy. Rachel worked in the Agricultural Division, Construction & Forestry Division, and Corporate and led teams in the US, Germany, and Brazil. Prior to Deere, she spent 5 years at International Paper in engineering and customer technical support. Rachel earned a bachelor's degree in Chemical Engineering from University of Virginia (USA) and a Master of Business Administration from Harvard University (USA). She currently resides in Columbus, Indiana with her husband Jeff and two children, Michael and Melissa.

Eric Zhang is the Director of China ABO Purchasing. Eric joined Cummins in 2006 as the Global Supply Chain Director for Cummins Electronics. He went on to become the Global Purchasing Director for Cummins Electronics, then the Distribution Business. Prior to joining Cummins, Eric worked for Ericsson and Hewlett-Packard. Eric holds a Bachelor's Degree in Electronics Engineering from Shanghai Jiatong University, as well as an MBA from Kelly School of Business, Indiana University. Eric enjoys traveling, watching movies, playing computer games, and soccer.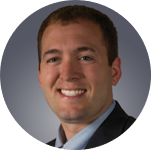 Steve Pinkston is Director of North America Supply Continuity.  Steve has been with Cummins for 9.5 years in purchasing roles on the SSF team, supplier risk, and most recently leading CES purchasing prior to his current role.  Steve is an avid Iowa State and Cubs fan and lives in Columbus with his wife, Emilie, and their three sons. 

Mike Kirsch is the Purchasing Director for New Technology and Research & Technology. Mike joined Cummins in 2007 with Cummins Turbo Technologies in the United Kingdom, working on the Product Cost Council, Environmental Materials Council, Purchasing Metals, and Purchasing Functional Excellence. Before Cummins, Mike spent 23 years in various roles, including engineering, manufacturing and management in jet engines, automotive and contract manufacturing at companies including Rolls Royce, Chrysler, and as a private business owner. Mike has Mechanical Engineering degrees from Purdue (BSME) and MIT (MSME), as well as an MBA from MIT-Sloan School of Business. He is married with three children – a girl and two boys.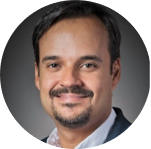 Marco Bologna is currently the Sourcing Director for Cummins in Latin America (ABO - area business organization). Prior to this role, Marco was the Indirect Purchasing Director for LatAm and served as Plant Manager at Cummins Brazil Manufacturing Plant (CBL), a multi-plant (EBU, Power Systems, Turbo Technology and Emissions Solutions) for some years. Marco joined Cummins in 1998 as intern in Machining area at CBL plant and over the course of his career, he has worked in and led a number of areas across the Operations and Supply Chain area in Cummins Brazil Plants and other companies, such as Bosch. As the diversity council leader for Brazil since 2016, Marco is passionate about initiatives that creates an environment where Cummins employees can deliver their full potential. Marco holds a bachelor's degree in Mechanical Engineering from the Maua Institute of Technology in São Caetano do Sul, Brazil, a post graduation degree in Industrial Administration and a Masters in Business Administration from Sao Paulo University. In 2018, He completed his second MBA from Kelley School of Business (Indiana, USA). Marco, his wife Christiane and their daughters Carolina (9) and Beatriz (6) live in São Paulo, Brazil.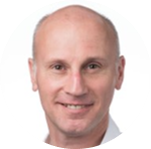 Graeme Green is the EMEA Direct Purchasing Director for Cummins. Graeme joined Cummins 30 years ago, and has held roles in a variety of global purchasing roles, including Senior Buyer for UK Purchasing, Senior Sourcing Manager for European Purchasing, Global Purchasing Manager for High Horse Power, Collaboration & Governance Purchasing Director for Power Systems Business Unit (PSBU), and Supply Chain Strategy Director for PSBU. Prior to joining Cummins, Graeme worked for appliance and automotive manufacturers as a Material Planner and Buyer. Graeme is married with two children – a boy and a girl. He enjoys football (soccer), listening to music, and non-business, leisurely travel.
If you are interested in applying for a matchmaker opportunity to connect with Cummins Sourcing Team, the registration is now open -
Click Here!
Registration closes October 13, 2020.
Direct Categories: Plastics, Nozzle Rings, Seals/Gaskets, Wiring Harness, Vibration Dampers, Clamps/Fittings, Sub-Assemblies, Shells, Coolers, Metals, Hardware, Diesel engine efficiencies, Fuel cells, Energy storage technology for stationery or mobile units, Stamping for CES (Sourcing Roadmap)
Indirect Categories: Marketing, Legal/Admin, Financial Services, Chemicals/Gasses/Fuel, Quality Lab Equipment, Facility Equipment, Machinery, Healthcare, Other, Travel Management Company