Entrepreneur Samuel Walker with a company called Interface makes his pitch at the Innovation Gateway competition in the U.K. in 2017.
A popular Cummins program in the U.K. that asks entrepreneurs to pitch their best ideas for reducing the company's carbon footprint is coming to North America.
The Innovation Gateway is looking for new ideas that will help Cummins meet its goals around water, waste, energy and recycling.  Those judged to have the best proposals will advance to the gateway finals, 9 a.m. to 1 p.m. April 8 at the Columbus Commons, 300 Washington St., Columbus, Indiana (U.S.A.).
"This is our chance to listen to ideas we might not have considered to help us meet our goals," said Jim Gruwell, Executive Director of Strategic Purchasing at Cummins and a judge at the finals. "This initiative worked really well in the U.K. and I can't wait to see how it works here."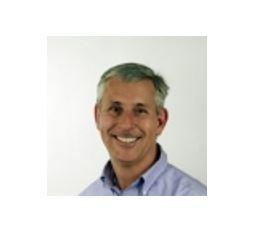 Blair Claflin is the Director of Sustainability Communications for Cummins Inc. Blair joined the Company in 2008 as the Diversity Communications Director. Blair comes from a newspaper background. He worked previously for the Indianapolis Star (2002-2008) and for the Des Moines Register (1997-2002) prior to that.